Lighting Up Our Town, Along with 'Lights of Love'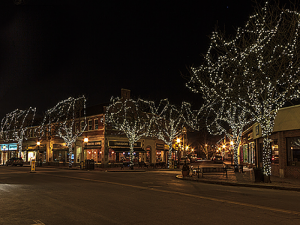 Did you know that "Lights of Love" of Winchester (a Winchester-based  501(c)(3) organization) partners with the Winchester Chamber of Commerce for our annual holiday fundraising effort to "Light up the Town?" Thanks to fundraising and many generous donations of all sizes, we work hard to beautify our town center to make it more inviting for all.
We always welcome donations to help light up and beautify our town. Your donation goes directly toward purchasing and maintaining the holiday wreaths, garland, and most importantly, the tree lights in downtown Winchester. The downtown businesses benefit from these festive decorations as do residents and visitors by providing an inviting place to shop during the holidays AND throughout the year.
'Lights of Love' of Winchester was founded in 2004 by Lucille Murray, as a symbolic way to remember our deceased children and loved ones through lighting up our downtown.
We thank you for your continued support!
Would You Like to Contribute?
Every donation counts! Please make your check payable to:
Lights of Love of Winchester (a 501(c)(3) charitable organization)
or to The Winchester Chamber of Commerce
All checks may be mailed to the chamber office at: 25 Waterfield Rd., Winchester, MA 01890
Or click here to donate on-line (on-line payment link to come).