KidStock! Stage Company
ALADDIN JR will be presented APRIL 4 &5 at 1:00 and 4:00 at the NextDoor Theater in Winchester.
Aladdin and his three friends, Babkak, Omar, and Kassim, are down on their luck until Aladdin discovers a magic lamp and the Genie who has the power to grant three wishes. Wanting to earn the respect of the princess, Jasmine, Aladdin embarks on an adventure that will test his will and his moral character.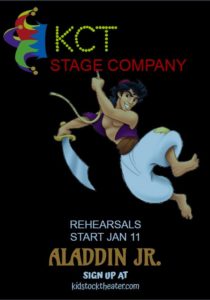 tickets will go on sale MARCH 1